Obama praises slain Dallas police officers for saving lives at fatal protest
Comments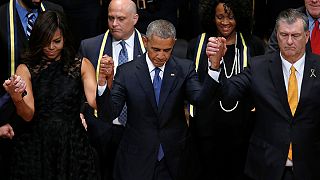 President Obama has praised Dallas police at a memorial service in the Texan city for five officers shot dead last week in the deadliest day for US law enforcement in almost 15 years.
The five officers were gunned down by a man expressing anger over recent police killings of black people.
The president told his audience that police do an incredibly hard and dangerous job fairly and professionally, adding that officers deserved respect and not scorn.
"I am here to insist that we are not as divided as we seem, and I know that because I know America," Obama said, before citing the actions of police during the Dallas shooting as an example.
"When the bullets started flying, the men and women of the Dallas police, they did not flinch and they did not react recklessly, they showed incredible restraint. Helped in some cases by protesters, they evacuated the injured, isolated the shooter, saved more lives than we will ever know," the president went on.
"These men & their families shared a commitment to something larger than themselves." —POTUS</a> at the <a href="https://twitter.com/hashtag/DallasMemorial?src=hash">#DallasMemorial</a> <a href="https://t.co/fbQxve1JMB">https://t.co/fbQxve1JMB</a></p>&mdash; The White House (WhiteHouse) July 12, 2016
CityOfDallas</a> <a href="https://twitter.com/hashtag/Dallasfallen5?src=hash">#Dallasfallen5</a> <a href="https://twitter.com/DallasPD">dallaspdFBINAAQuantico</a> <a href="https://t.co/6uWFusfbMP">pic.twitter.com/6uWFusfbMP</a></p>&mdash; Malik Aziz (ChiefMalikAziz) July 12, 2016
Barack Obama – who was due to meet the families of the police victims – also addressed the wider problems of America's race relations. The murders happened at a protest over police violence against black victims.
He drew parallels between Dallas and the shooting of nine black people inside a South Carolina church last year.
And he reiterated a call for stricter gun control in the US – an appeal as ever likely to fall on deaf ears in Congress.
"We cannot simply turn away and dismiss those in peaceful protest as troublemakers" —POTUS</a> <a href="https://twitter.com/hashtag/DallasMemorial?src=hash">#DallasMemorial</a> <a href="https://t.co/S2Lueskwzf">https://t.co/S2Lueskwzf</a></p>&mdash; The White House (WhiteHouse) July 12, 2016