Sunny side up as Solar Impulse 2 closes in on first fuel-free round-the-world flight
Comments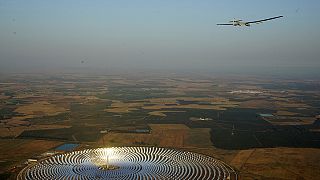 The first ever fuel-free round-the-world flight is coming close to completion.
Solar Impulse 2, a plane powered purely by the sun's energy, is on the penultimate leg of its 16-month long journey.
The 16th leg – of more than 50 hours – takes it over the Mediterranean Sea, crossing through the airspace of Tunisia, Algeria, Malta, Italy and Greece before ending in Egypt.
Flying over #GemaSolar- the 1st #solar airplane meets the 1st solar plant, producing energy day and night Masdar</a> <a href="https://t.co/G9S0ZmgjDI">pic.twitter.com/G9S0ZmgjDI</a></p>&mdash; André Borschberg (andreborschberg) 11 July 2016
It is being flown in turns by two Swiss pilots Andre Borschberg and Bertrand Piccard.
Borschberg, who is flying this part from Seville in Spain to Cairo, was reflective before take-off, but said now is no time to get complacent: "It's my last flight for this round the world epic so I start to think about it. Of course I'm happy that we get close to the end. Still very prudent, knowing that it is not done yet so I have to stay really focused and I guess it's the same for the team."
BREAKINGandreborschberg</a> has taken off for his last flight, from <a href="https://twitter.com/hashtag/Seville?src=hash">#Seville</a> to <a href="https://twitter.com/hashtag/Cairo?src=hash">#Cairo</a>, & will fly for <a href="https://twitter.com/hashtag/futureisclean?src=hash">#futureisclean</a>! <a href="https://t.co/MebE8z5gJp">pic.twitter.com/MebE8z5gJp</a></p>&mdash; SOLAR IMPULSE (solarimpulse) 11 July 2016
Borschberg was in the cockpit for the Pacific Ocean crossing, from Nagoya, Japan to Hawaii, which took 118 hours.
Piccard did the 71-hour flight over the Atlantic Ocean from New York. The original destination was Paris but bad weather meant Solar Impulse 2 had to set down in Seville.
The single seater plane has over 17,000 solar cells built in to its carbon-fibre wings, which have a span bigger than that of a Boeing 747. They charge batteries that drive electric motors. The aircraft – which weighs about the same as a car – has a cruising speed of around 70 kilometres an hour (43 mph).
From Cairo it will head on to Abu-Dhabi, in the United Arab Emirates, the starting point of the journey in March 2015.