PM Abe expected to win again as Japan goes to the polls
Comments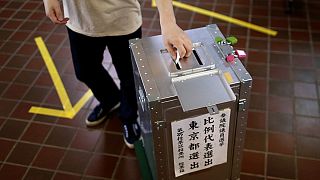 Japan goes to the polls on Sunday with the result in little doubt; Prime Minister Shinzo Abe's ruling coalition looks set for a comfortable victory, despite worries about the still ailing economy.
The question is how many of the seats the coalition will win in the half of parliament's upper house that are up for re-election.
If the coalition gets two thirds of the vote Abe can go ahead with changing the pacifist constitution that has endured since Japan was defeated in the Second World War.
If Japan's military is then allowed to operate overseas it could lead to more tension with China which hasn't forgiven Japan for its aggressive nationalism.
"There would be dire consequences if our constitution is reinterpreted. I have four grandchildren, and I really want them to be able to inherit a constitution that is flaw-free," said one voter, Kazami Toshio, outside a polling station in Tokyo.
Abe says the election is effectively a referendum on his economic policies which are trying to reverse two decades of deflation in what is the world's third largest economy.
Abe's coalition won landslides in the last three general elections in terms of numbers of seats, but experts say rock-bottom turnout reflected the voters' feeling there were no real alternatives.
Conservatives see the constitution as a humiliating symbol of Japan's defeat in World War Two. Its admirers consider it the source of post-war peace and democracy. Revising the charter needs the approval of two-thirds in both houses of parliament and a majority in a referendum.
But a majority of voters see no need to revise the constitution and the dovish partner of Abe's Liberal Democratic Party is reluctant to change its pacifist Article 9.