Obama tells EU leaders Brexit proves ordinary people need more from Europe
Comments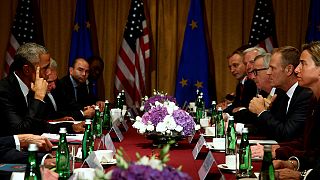 US President Barack Obama has met with EU leaders ahead of the NATO summit in Poland, minus the outgoing British Prime Minister David Cameron, to discuss the implications of Britain's leaving the European Union.
"We also agreed that on both sides of the Atlantic we need to address the economic frustrations and anxieties of many of our people, feelings that undoubtedly contributed to the Brexit vote, fears that they are being left behind by globalisation and economic integration. Our governments, including the EU cannot be remote institutions. They have to be responsive and move more quickly with minimal bureaucracy to deliver real economic progress in the lives of ordinary people," said Obama.
Cameron will use his final summit to underline Britain's key and continuing role in NATO, which he says will be unaffected by Brexit. But the upcoming negotiations on the future relationship with the EU remain a worry.
"We have to engage in negotiations and I'm not doing this – how can I say – in a hostile mood. I think that even after the referendum, the European Union and the United Kingdom share a community of interest, not only in defence and the military sector but in all relevant sectors," said EU Commission President Jean-Claude Junker.
It is also Obama's last summit, and he urged NATO leaders to stand firm against a resurgent Russia over its seizure of Crimea from Ukraine, and maintain sanctions until Moscow fully complies with a ceasefire agreement.