State workers urge Brazilian government to pay their salaries instead of the Olympics
Comments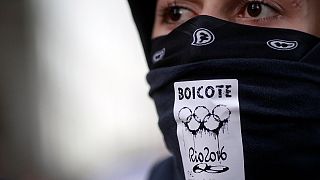 With less than a month to go before the Brazil Olympics, hundreds of striking state workers have marched through Rio de Janeiro in anger over delayed salary payments.
They say the government should pay their wages instead of hosting the Games.
"The government didn't pay (the pensionsof) retired workers saying that the money was for Olympic construction projects. We think this is absurd. Letting people die in hospitals to do the Olympics. Not paying people's salaries to do the Olympics," said state school worker Daisy Oliveira.
Police and firefighters have also protested at Rio's international airport, to warn visitors of the potential dangers of not paying them.
Some held a banner reading "Welcome to hell."
#Firefighters and #Police greet #tourists at the #airport in #Rio with a #protest#signpic.twitter.com/fk1AXDruYa

— Dave Sibley (@dave911) June 30, 2016
Interim President Michel Temer has sought to reassure the world that Rio is prepared to host the tournament.
However, Brazil is dealing with a myriad of problems. It is struggling through one of its worst recessions since the 1930s and political unrest is rife, while many Brazilians are also concerned about high crime rates, infrastructure delays and the Zika virus.