Minnesota authorities to investigate death of black man in latest police shooting
Comments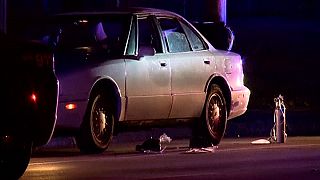 The Minnesota Bureau of Criminal Apprehension is investigating the death of a 32-year-old black man after shots were fired during a police traffic stop.
Philando Castile died following the incident on Wednesday (July 6) in the city of Falcon Heights, Minnesota, his mother confirmed.
Philando Castile's mom Valerie: "He lived by the law & died by the law." #FalconHeightspic.twitter.com/sgs7bdYFlG

— Jennifer Mayerle (@jennifermayerle) July 7, 2016
Minneapolis police say an officer shot the victim, while an eyewitness has released a video purporting to show the aftermath of the incident. She said the deceased had been reaching for his licence.
The unidentified woman gives her description of events in the run-up to the shooting. Beside her, a black man can be seen, apparently covered in blood. Police officers are then heard ordering the woman to get out of the car. She said the car was pulled over for a broken tail light. Images have since emerged on social media claiming to show the car involved in the incident, with working tail lights.
"He was trying to get out his ID and his wallet out of his pocket," the woman says on the video. "He let the officer know he had a firearm and that he was reaching for his wallet and the officer just shot him in his arm."
#PhilandoCastile's girlfriend, who filmed the aftermath of his shooting, is in custody. | https://t.co/E40ansQomMpic.twitter.com/1ZFVpkrziH

— WCCO - CBS Minnesota (@WCCO) July 7, 2016
Police said they later recovered a handgun from the scene.
Later in the video, a distraught man can be heard screaming "I told him not to reach for it!"
St Anthony Police Department issued a press release confirming shots had been fired during a traffic stop in Falcon Heights at 9pm local time. An adult male later died in hospital, it said.
Press release just in from #FalconHeightsShooting read it here: pic.twitter.com/FBiJh7S3iA

— Liz Collin (@lizcollin) July 7, 2016
It came just hours after the US Justice Department confirmed it had opened an inquiry into the fatal shooting of a black man in Baton Rouge, Louisiana. Tuesday's incident (July 5) reportedly involved two police officers.
The use of force by law enforcement officials against African-Americans nationwide has come under heavy scrutiny, both in the US and internationally.
A memorial going up 100 feet from where #PhilandoCastile was shot by police. #falcolnheightsshootingpic.twitter.com/6NahwZlNdz

— Lindsay Guentzel (@LindsayGuentzel) July 7, 2016