France moves to lure London bankers post-Brexit
Comments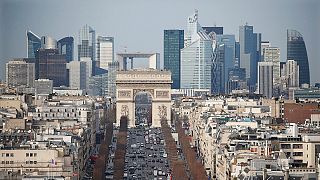 France has stepped up its efforts to grab some of the London banking business that could be displaced by Britain's decision to leave the European Union.
We want to build the financial capital of the future
Prime Minister Manuel Valls has pledged to make the country's tax regime for expatriates the most favourable in Europe saying: "We want to build the financial capital of the future."
That includes extending France's special tax regime for foreigners and French nationals returning from stints abroad to eight years from the current five years.
Valls said the government would also set up a one-stop administrative point for foreign firms seeking a foothold in France with service in languages other than French.
Manuel Valls to international corporations in London: 'Welcome in Paris'https://t.co/pg8B7yRa4ipic.twitter.com/SIxZYWUlzS

—

POLITICO

Europe (@POLITICOEurope) July 2, 2016
"We are not in a war with London… but there is competition and we want to make Paris Europe's top financial centre," the head of the wider Paris region, Valerie Pecresse said.
France's financial sector has often complained of government ambivalence towards the industry, which is subject to high taxes and sometimes hostile remarks from politicians.
Italy and Spain also look to London
Italian and Spanish cities have said they are considering offering incentives to banks and international firms looking to move from the UK.
Milan's new centre-left mayor, Giuseppe Sala, met with Andrea Enria, chairman of the European Banking Authority on Wednesday, to urge the London-based EU watchdog to choose Italy's financial capital as its new home given it was highly likely it would have to leave Britain.
Milan is also vying to attract another London-based EU body, the European Medicines Agency.
Madrid and Barcelona have both said they are looking at granting tax breaks.
Banks promise to help London
Four US investment banks have promised British finance minister George Osborne that they would help London keep its top spot as a global financial centre following the country's vote to leave the European Union.
JPMorgan, Goldman Sachs, Bank of America Merrill Lynch and Morgan Stanley, as well as Britain's Asia-focused Standard Chartered said they would try to support London's financial sector.
Good meeting with banks & building societies. Read our joint statement here https://t.co/QjvEJSWEMepic.twitter.com/U8jl4UxGxr

— George Osborne (@George_Osborne) July 5, 2016
"Today we met and agreed that we would work together … with a common aim to help London retain its position as the leading international financial centre," the banks said in a joint statement with Osborne.
The statement said no other city in Europe had capital markets as deep as those of London, but the banks made no commitment about keeping jobs in Britain.