Brazil: Rousseff denounces impeachment process as a 'farce'
Comments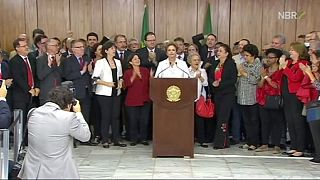 Brazil's suspended President Dilma Rousseff has presented her written defence to a Senate impeachment trial.
She denounced the proceedings as a "farce", saying her alleged crimes were no more than "routine acts of budgetary management".
Rousseff herself is not directly accused of corruption, but of breaking fiscal laws.
She believes politicians ganged up on her because she didn't obstruct an inquiry into the state-run oil company Petrobras.
Her lawyer Eduardo Cardozo, Brazil's former Attorney General, read Rousseff's statement:
"I am being tried because I did not accept blackmail. This impeachment process only exists because I rejected the harassment of blackmailers. Brazil's biggest risk at the moment is to continue to be led by an unelected government. A government without the backing of the people will not resolve the crisis because it itself will always be the crisis."
Rousseff continues to portray the impeachment process as a soft coup led by her conservative coalition partner Michel Temer who has taken over as interim leader.
But critics have argued she borrowed far more money than her predecessors to hide the real state of Brazil's economy before the 2014 election.