Obama campaigns with Clinton after FBI rule out criminal charges over 'emailgate'
Comments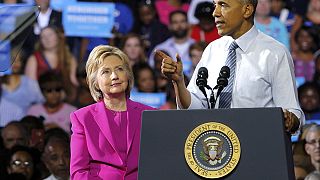 They were once bitter political rivals but Hillary Clinton now has outgoing President Barack Obama backing her in the race to the White House.
It is no coincidence that they have just made their first joint appearance. Clinton's 'emailgate' is over and she will not face criminal charges for setting up and using a private email for government business while she was secretary of state. That's the conclusion of an FBI investigation.
"There is evidence that they were extremely careless in their handling of very sensitive, highly classified information. In looking back at our investigations, into the mishandling or removal of classified information, we cannot find a case that would support bringing criminal charges on these facts," James Corney, FBI director told a press conference.
From the group of 30,000 emails returned to the State Department 110 in 52 email chains the agency said contained classified information. Eight of those chains contained information that was Top Secret at the time they were sent.
Thirty six chains contained Secret information at the time and eight contained Confidential information which is the lowest level of classification.
The story first broke when the New York Times reported it in March last year. It has been rumbling since then and provided political opponents with ammunition to attack Clinton not least Donald Trump.
Tweets from the man most likely to be nominated the official Republican candidate were fired at their target in advance of a speech to supporters after the FBI verdict.
"She sent vast amounts of classified information, including information classified as top secret – top secret. OK? And this is where they said was extremely careless and frankly, I say, grossly incompetent. She will be such a lousy president folks," he said.
One aspect of her email setup meant she was the sole arbiter of what should and shouldn't be turned over to interested parties such as the congressional committee investigating the 2012 attack on the US consulate in Benghazi.
Among those emails released were some exchanges about the attack in which four Americans died. The Democrats were criticised by the Republicans for their handling of the situation.
According to the presidential hopeful she set up the system for "convenience" preferring to carry just one smart phone with her with one email address.
Critics argue it gave her total control over all her correspondence.