Euro 2016 players told to keep their children off the pitch
Comments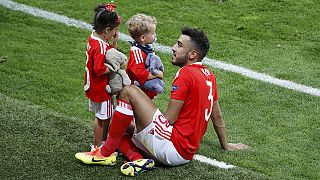 UEFA has urged all Euro 2016 players to stop bringing their children onto the pitch after matches.
The images of toddlers joining their footballer dads may have been adorable to audiences but for tournament director Martin Kallan a stadium is "not the most safe place for small kids".
In a statement on Tuesday Kallan told reporters: "It is a European Championship not a family party.
"We are not 100 percent against it but we are cautious," he added. "Small kids of five, six years – if something happened, what do you do afterwards? What do you say?"
Officially only accredited people are allowed on the pitch.
David Griffiths, president of the Welsh Football Association, said: "UEFA's frowning on it unfortunately because it's encroachment on the pitch. But the team is run like a family and the boys have been together for so long."
The UEFA officials were branded "killjoys" by Welsh Plaid AM Simon Thomas: "I cannot think of a more positive message that the Welsh team is sending than to have young girls and boys kicking a ball around at the end of an international football match."