French intelligence services should be overhauled in light of Paris attacks says report into atrocities
Comments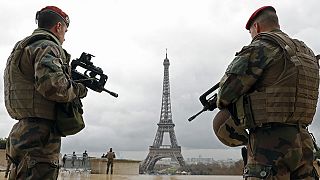 The French intelligence services should be overhauled. That's one recommendation in a report into last year's terror attacks in Paris.
The parliamentary commission of inquiry was not out to apportion blame but to make the general point France's intelligence had failed.
The report focused on three aspects. First, the work of the law enforcement agencies – the intervention forces. On the evening of November 13 in Paris several sites were the target of the terrorists and almost simultaneously all the forces were deployed.
"Allow me to salute the courage, selflessness and professionalism of our security forces, the BRI, CIGN and RAID. Even if I know that sometimes they are rivals these forces have saved lives by their work, " said Sebastian Pietrasanta the reports rapporteur.
The multiplicity of competing agencies was part of the problem. The CIGN, the National Gendarmarie is the oldest. RAID is the National Police counterpart of CIGN and both share responsibility for French territory.
The BRI specialises in serious criminal cases such as armed robbery and kidnappings. The report suggests the groups should merge.
"The emergency services arrived at all the targeted sites between three and 10 minutes on November 13 in this security situation. We propose to establish a secure exclusion corridor of rescuers for the victims protected by security forces," explained Sebastian Pietrasanta.
The rescue of the victims was another key point of the report. Emergency services it pointed out arrived quickly but there were shortcomings – a lack of security and access to areas closed by the security forces. The care of the wounded including psychological support was insufficient as was the monitoring of the victims.
"The November 13 attack came mainly from French speaking Belgians. Faced with this challenge we questioned how the terrorists found their way into French territory. They were all known and recorded and some were under surveillance,"Sebastian Pietrasanta pointed out.
Finally on the question of intelligence the propositions went much further. That's because as we are aware now the attackers of November 13 and those of January 7 were for the most part known.
The report pointed to a failure with external and internal intelligence. It recommended a major overhaul of the intelligence system including the merger of the six intelligence services operating in France into a single one directly under the prime minister's authority.
That believes the report, would improve information-sharing and make it easier for foreign agencies to know with whom to deal.
It added a greater priority should be given to intelligence gathering within prisons seen as a breeding ground for radicalisation.