Trudeau becomes first Canadian PM to join gay pride parade
Comments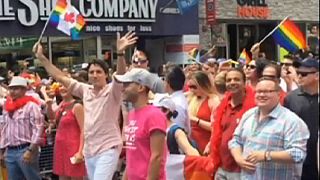 Justin Trudeau has become the first Canadian prime minister to march in a gay pride parade.
He joined the event in downtown Toronto, along with other politicians.
Trudeau said the parade was more poignant this year following last month's shooting rampage at the Pulse gay nightclub in Orlando, which killed 49 people.
He has also revealed that Canada is exploring the use of gender-neutral options on identity cards.
It comes after the province of Ontario recently said that it would allow the use of a third gender indicator – X – for driver's licenses.
Justin Trudeau at Toronto Pride is what EVERY politician should aspire to be (h/t rachel_is_here</a>) <a href="https://t.co/zMArAQuEqx">pic.twitter.com/zMArAQuEqx</a></p>&mdash; Sam Stryker (sbstryker) 3 July 2016