Torrential rains spark floods in China, Pakistan, and India
Comments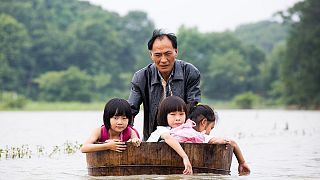 Severe floods in several Chinese regions have left at least 180 dead as heavy rains sweep across Asia, also triggering floods in Pakistan and India.
In China the floods hit Guizhou, Hunan and Anhui provinces, destroying crops and causing dykes to fail. One leaking dyke in Xuancheng threatens to flood the southeastern parts of the 2000-year-old city of nearly one million people.
Some 7000 villagers have already been evacuated there after their homes were submerged. Damage to transport links has been extensive, and many businesses have been forced to close as they are underwater, or their workers are unable to get to them, or have been flooded out themselves.
In Pakistan the death toll is lower with at least 28 known to have died, including worshippers at a mosque in Drosh who were caught out by a flash flood which destroyed the building. Several people are reported missing.
At least 40 people died in India, but as in Pakistan there are fears the numbers could rise once relief gets to the remotest areas.