New York: tourist severely injures foot in Central Park explosion
Comments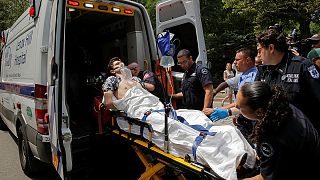 A 19-year-old tourist has severely injured his left foot, after an explosion in New York's Central Park.
It is thought that he jumped off a rock and stepped on a homemade firework.
He was in a critical, but stable condition.
Police say there is no reason to believe the blast – which happened on the eve of Fourth of July celebrations – was the work of extremists.
Investigators said the object was likely fabricated by an amateur fireworks enthusiast for the thrill of creating a loud noise and flash.
The victim was with two other people, aged 18 and 20, and they were not injured.
None was believed to have had anything to do with making the device.