German fans exultant, Italians despondent after penalty rollercoaster ride
Comments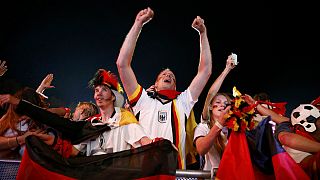 Happy German fans celebrated after their national team knocked Italy out of Euro 2016.
But one small group were in a tiny minority among the subdued crowd in Rome after a roller-coaster penalty shootout.
It's the first time Germany have beaten Italy in a major tournament. Italian fans put a brave face on the event.
"The important thing is that we reached the quarter-finals, so that was an achievement. And anyway we have won four World Cups, let's not forget that, and we've always beaten the Germans. So for once (they beat us) it's OK," said one fan.
"I think in the match, the Germans were stronger, but I have to say that Italians have superior hearts," another added.
Fans who witnessed the match in Bordeaux left the stadium emotionally drained, some of them ecstatic.
After the match finished 1-1 after extra time, both sides then missed several penalties before Germany prevailed.
"Unfortunately we couldn't repeat what happened in 2006," said one young female fan, referring to Italy's World Cup success during which they beat Germany in the semi-final. "The Germans were very good and played very well but it's a shame to have lost in this way."
Victory was a long time coming for those in the fan zone in Berlin, but when Jonas Hector scored the winning penalty it was worth the wait.
"It was a damn nerve-wracking match, I thought. But you cannot deny them this. Because the Italians had no ideas. And that is the right result," one young fan said.
"If Germany don't become European champions now, then I don't understand the world anymore," his friend said.
Germany will play their semi-final on Thursday in Marseille – against either the hosts France, or
surprise qualifiers Iceland, who play their quarter-final on Sunday night.