Man jailed by German court for stabbing mayor of Cologne
Comments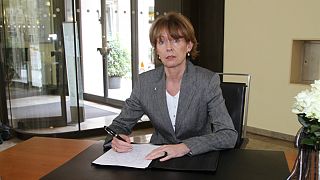 A German court has sentenced a man to 14 years in jail for stabbing the mayor of Cologne the day before Henriette Reker was elected.
The 45-year-old named as Frank S was found guilty of attempted murder.
The presiding judge said he wanted to send a signal to the government about refugee policy and create a climate of fear.
During his trial the man said he didn't intend to kill but targeted the politician for her pro-refugee stance.
He admitted previous links to neo-Nazi groups.
The attack last October as Reker attended an election event left her in a coma for several days.
She continues to receive medical treatment.