German and Italy fans face off in Bordeaux
Comments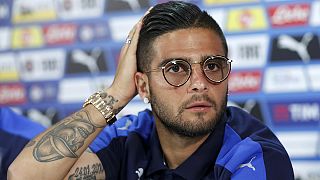 German and Italian football fans are out in force in Bordeaux tonight ahead of their countries' Euro 2016 quarter-final.
The match pits Europe's top two traditional powers against each other in a game which is worthy itself of being a final; especially given both team's scintillating form so far.
The Azzurri have surprised many by making it this far but their supporters believe they can go all the way.
According to la squadra fan Jonathan: "Italy just needs to play as we're able to do. If we play like we did against Spain then I'm sure we'll win 2-0. We are determined. I am sure we can make it. Our team is the best squad at Euro 2016."
Germany are defending world champions but they've never beaten Italy in the knockout stages of a major tournament going back nearly 50 years – a snap German fans say must now end.
"We hope, of course, that we win for the first time today because we have lost all the previous eight games at a tournament. We hope for a beautiful game with a good end, hopefully," explained German fan Matthias.
The winners will play the winners of Sunday's match between Euro 2016 hosts France and Iceland, which is competing in its first major tournament. Kick-off is at 21h CET.