Europe falls silent to commemorate the centenary of the Battle of the Somme
Comments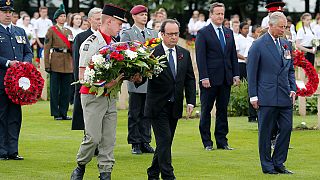 At 8.28am Central European Time, thousands of people across Europe fell silent to commemorate the centenary of the start of the Battle of the Somme.
Members of the British Royal Family joined the French president at the Thiepval memorial in northern France.
Abide with Me from the #Somme100 commemoration in Thiepvalhttps://t.co/ipSn97faivhttps://t.co/ShzEvfcrh3

— BBC News (UK) (@BBCNews) July 1, 2016
The five-month battle in the middle of the First World War was one of the bloodiest in European history. More than 1.2 million people were killed or wounded as the British and French fought German forces along a 24 kilometre front near the River Somme.
July 1, 1916 has gone down on record as the bloodiest day in the history of the British army. 19,240 soldiers were killed as the troops advanced just 4.8 square kilometres.
Initially billed as the battle to bring about a decisive victory for Britain and France, the allies had advanced just 11 kilometres and were unable to break the German defence.