Delight for Portugal fans after another nail-biter goes down to wire
Comments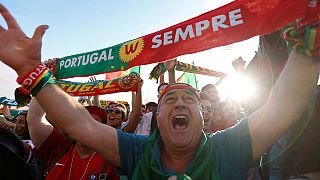 They had struggled through the tournament until now – but Portugal is celebrating after the country became the first to qualify for the semi-finals at Euro 2016.
Fans in Lisbon relished the moment as their team overcame Poland in a penalty shoot-out after a 1-1 draw.
In Marseille they left the stadium in relief as much as exultation – only one outright victory in five games has left them used to games going down to the wire.
"It's always to suffer. Portugal is always to suffer. We always know it's going to be difficult. And we going to tile all the way till the end and then win. That's it. That's our strategy," said one young man.
"It was good game. I felt like Portugal played really well. So did Poland. So commiserations to Polish fans, I think they were great," another added.
Great they may have been, but Poland are out after making it to their first Euro quarter-final, Lewandowski's early strike proving to be a false dawn.
"For me Poland merit (the) win, but Portugal have a chance. And this is important when you play football – the chance and the heart," a Polish fan said outside the stadium.
The event didn't pass off without incident.
Before the game police broke up some minor scuffles outside the Stade Velodrome.
Fighting among Polish fans before their group game against Ukraine resulted in several arrests.