Critics round on Boris Johnson after Gove wields Brexit knife
Comments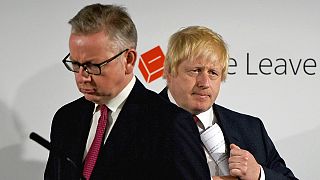 "Take back control": the slogan was repeated over over again by Michael Gove and Boris Johnson during Britain's EU referendum campaign and arguably helped tip the balance in many voters' minds, persuading them to back the UK's withdrawal.
But with Europe now waiting to hear what the UK's negotiating position will be in seeking Brexit terms, the united front collapsed as Gove not Johnson said he would run for prime minister – and set out in no uncertain terms why he had turned on his former ally.
Britain's justice secretary had been expected to back Boris Johnson. "He has character, I don't," he said during the campaign.
Gove also said several times that he did not think himself suitable for the country's top job. "Count me out," he said in a TV interview.
On Thursday, suddenly, Michael Gove announced that he had changed his mind.
"Boris is an amazing and an impressive person, but, I've realised, in the last few days, that Boris isn't capable of building that team and providing that unity and so I came reluctantly, but firmly, to the conclusion that as someone who argued from the beginning that we should leave the European Union, that I had to stand for the leadership of the Conservative Party," he told another TV interviewer.
Remember all the times Michael Gove said he'd be a rubbish Prime Minister? https://t.co/549SJW6xiHpic.twitter.com/41cLEKiJu4

— Huffington Post UK (@HuffPostUK) June 30, 2016
Earlier on Thursday, Boris Johnson's supporters had gathered anticipating a triumphant announcement that he was to stand for Tory leader.
Instead the man who championed the Brexit cause, and was expected to carry the fight to Brussels, said almost apologetically that he was out of the race.
"My role will be to give every possible support to the next Conservative administration, to make sure were properly fulfill the mandate of the people that was delivered at the referendum, and to champion the agenda I believe in," Johnson said.
Tomorrow's front page: BorisJohnson</a>&#39;s career has been shot to pieces by Brexit comrade Michael Gove <a href="https://t.co/J9S7oWsalK">pic.twitter.com/J9S7oWsalK</a></p>&mdash; The Sun (TheSun) June 30, 2016
Critics of the former London mayor say he only believed in Brexit to further his own ambition, some portraying him as a reckless opportunist.
At one time seen as pro-immigration and in favour of British membership of the EU, he only came out for the Brexit camp earlier this year and had reportedly written two alternative speeches while he decided which side to back.
By playing such a decisive role in a campaign featuring claims that were hotly contested, Johnson's opponents accuse him of creating the UK's biggest crisis in decades, only to abandon ship.
Tory grandee Michael Heseltine launched a scathing attack on Johnson, saying he should answer for the consequences of the campaign to take the UK out of the EU.
"He has ripped the Tory party apart, he has created the biggest constitutional crisis in peacetime in my life," the former minister under Margaret Thatcher said in an interview with the BBC, adding that he was "like a general who marches his army to the sound of the guns and the moment he sees the battlefield he abandons it."
BREAKING! Turns out #BorisJohnson didn't create #Brexit and risk UK disintegration for personal career at all. Just did it for hell if it!

— Cas Mudde (@CasMudde) June 30, 2016