Toyota recalls 3.4 million cars over fuel leak and airbag problems
Comments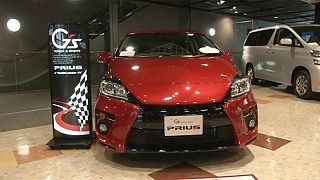 Japanese carmaker Toyota is recalling nearly 3.4 million vehicles worldwide to fix two problems.
One involves possible leaks from fuel emissions control units while the other concerns airbag inflators that could have a small crack in a weld.
Some of its hybrid Prius models contain both the potential defects.
No crashes, deaths or injuries have been linked to either.
The fuel issue is on models produced from 2006 to 2015 including the Prius, Auris and Corolla.
The airbag inflators are fitted to the Prius and Lexus CT200h cars made between 2010 and 2012.
The side airbag inflators, which were not supplied by troubled maker Takata, could partially inflate.
They were produced by the Swedish/American company Autoliv, which said it knew of a few instances when air bags exposed to temperature fluctuations had partially inflated in parked vehicles.
Autoliv's shares fell after the recall was announced.
Shares in air-bag maker Autoliv slide on Toyota recall. https://t.co/vGBURu4QkQ

— Dominic Chopping (@domchopping) June 29, 2016