Nicola Sturgeon gets 'sympathetic' reception in Brussels over Brexit
Comments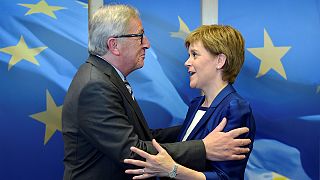 Scottish first minister Nicola Sturgeon has been in Brussels for talks with senior EU officials.
Earlier she met with President of the European Parliament Martin Schulz and European Commission President Jean Claude Junker.
Scottish First Minister Nicola Sturgeon met with the president of the EU Parliament today https://t.co/QNuWNjAUHnpic.twitter.com/AZMBWY6OCD

—

CNN

International (@cnni) June 29, 2016
Sturgeon said she was in Brussels to make the Scottish position clear following the UK referendum result to leave the EU.
.JunckerEU</a> received <a href="https://twitter.com/NicolaSturgeon">NicolaSturgeon, First Minister of #Scotland to listen: https://t.co/WnYNVMHS5Npic.twitter.com/MlDA7UfW1R

— Mina Andreeva (@Mina_Andreeva) June 29, 2016
Scotland voted by 62% to 38% in favour of remaining in the European Union.
Scotland faces being dragged out of the EU after the vote for Brexit something she described as a "democratic disgrace."
She said she had received a "sympathetic" hearing and added: "Since I have been here I've found enormous interest in the referendum result as you would expect and I've also had a sympathetic response to the position Scotland finds itself in, facing the prospect of being taken out of the European Union against out will."
The first minister believes the visit is a preparatory step in a long process:"I've found doors to be open here today we are right now in unchartered territory and none of this is easy," she said.