Japan's Abe speaks on Brexit concerns
Comments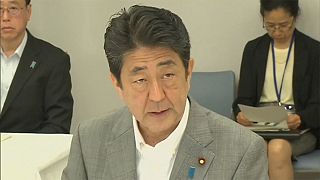 Japanese Prime Minister Shinzo Abe has addressed the effects of the Brexit vote on his country, pledging to use all available policy tools to help its economy grow.
Abe has held two meetings with top policymakers from Japan's central bank since the UK referendum result was announced.
Abe urges BOJ to ensure market liquidity after Brexit vote: Prime Minister Shinzo Abe on Wednesday urged the … https://t.co/eU1Mnrngpq

— Eir Aoi Ruru 藍井エイル (@AoiEir) June 29, 2016
The financial uncertainty after Britain's shock vote to leave the European Union meant investors bought into so-called safe havens including the Japanese yen.
A stronger currency is bad news for Japan's export-reliant economy, which is already under pressure from weak demand at home and abroad.
Retail sales fell more than expected in May, according to statistics released hours before Abe spoke.That keeps policymakers under pressure to roll out more stimulus.
"Consumer spending has been stagnant and the trend is likely to continue for a while due to sluggish growth in wages," said Hidenobu Tokuda, senior economist at Mizuho Research Institute.
#Japan's #Retail Sales Unchanged In May, Underscore Weak Recovery #Asia#Ecommerce#ShinzoAbehttps://t.co/4xeYQtxGH3

— European Supermarket (@esm_magazine) June 29, 2016
Japan stepped up threats to intervene to weaken the yen after the Brexit vote drove the currency to multi-year highs, but the risks of a costly failure may dissuade policymakers from matching their words with action.
Yasuji Yajima, chief economist at NLI Research Institute, said: "If the yen spikes beyond 100 to the dollar, authorities would intervene in the currency market but I doubt whether it could have a lasting impact."