German MPs file war crime lawsuit against Turkey
Comments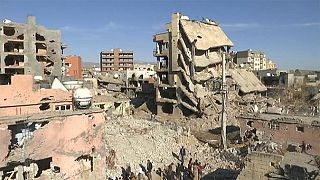 The Turkish military shelled the town of Cizre in the southeast for five months last year, and then claimed it had killed 600 PKK fighters in its war with the Kurdish militant group.
Human rights group Amnesty International said the military put two hundred thousand lives at risk and its attacks amounted to collective punishment.
Now German MPs Ulla Jelpke and Andrej Hunko as well as a German singer, Konstantin Wecker, are filing a lawsuit against Turkish President Recep Tayyip Erdogan as well as his deputy and his interior minister, accusing them of war crimes.
The governor of Sirnak province where Cizre is located, said no distinction was made between civilians and fighters.
Amnesty said that young children, women and elderly people were killed and that snipers and heavy weaponry were used in civilian areas.