Myanmar burns large pile of heroin and marijuana on UN anti-drugs day
Comments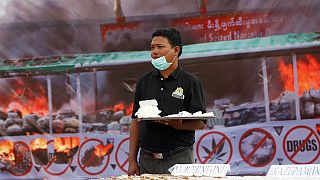 Myanmar – otherwise known as Burma – has marked Sunday's UN international day against drug trafficking and abuse by burning a vast quantity of substances in a public ceremony.
The packages set alight included heroin and marijuana and were said to have had a street value of around 18 million euros.
The country – part of the notorious Golden Triangle area – is one of the world's leading producers of illegal drugs.