Spain's politicians discuss Brexit in final day of general election campaigning
Comments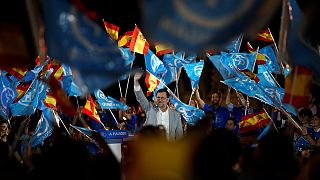 Spain's main political parties wrapped up a final day of campaigning for Sunday's (June 26) general election with warnings and reassurances in the aftermath of the UK's Brexit vote.
In the capital, Acting Prime Minister Mariano Rajoy and his Popular Party sought to reassure the electorate of the stability of the country's financial system.
"I think I represent the feelings of the vast majority of Spaniards when I defend Spain's commitment to the European integration process, the importance of euro zone stability and continuing the reform of our economic and monetary union," he added.
Polls suggest Spaniards overwhelmingly back remaining in the European Union. In spite of this, Podemos leader Pablo Iglesias called for policy changes within the bloc, telling a rally in Madrid that "Nobody would want to leave a Europe of fairness and solidarity."
While further south in Seville, the capital of the autonomous community of Andalucia, Pedro Sanchez of the Socialist Party urged Spain to "reflect on some people's irresponsible behaviour of offering binary yes-no solutions to complex problems.
The Ciudadanos – or 'Citizens' – party labelled Brexit "an opportunity to relaunch the common European project." Its leader, Albert Rivera has been one of the most outspoken candidates about the situation throughout the election campaign.