'We now need a Brexit government', says UKIP's Nigel Farage
Comments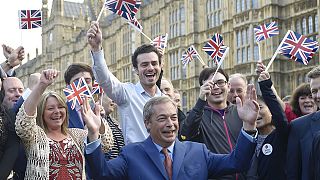 For Nigel Farage the British vote to leave the European Union means the UKIP leader has achieved the overriding political goal of his career.
He has led the United Kingdom Independence Party for the past decade and its progressive rise helped bring about the referendum.
In the early hours, as a result in favour of "Leave" became increasingly likely, he appeared before supporters to celebrate a victory for "ordinary people".
A few hours later Farage repeated the message – and called for a change of government – when he spoke again once the result was conclusive.
"The Sun has risen on an independent UK. And just look at it, even the weather has improved," the UKIP leader said. "It's a victory for ordinary people, decent people, it's a victory against the big merchants banks, against the big businesses, against big politics. I'm proud of everybody who had the courage in the face of all the threats to do the right thing. (…) We now need a Brexit government. a govt that gets on with the job, a govt that begins the renegotiation of our trade relationship (…)
And the other thing I think that needs to happen is that June 23. needs to become a national holiday, and we will call it Independence Day."
Describing the EU as "failing" and "dying", Farage said "I hope we've knocked the first brick out of the wall. I hope this is the first step towards a Europe of sovereign nations."
June 23rd must now be made a national holiday. #IndependenceDaypic.twitter.com/Aj7mEjPTnR

— Nigel Farage (@Nigel_Farage) June 24, 2016
Nigel Farage rejects £350 million NHS Leave pledge — "I would never have made that claim" https://t.co/l8yfAZocInpic.twitter.com/sWOc0D5e0r

—

POLITICO

Europe (@POLITICOEurope) June 24, 2016