UK ship 'needs new captain' after Leave vote - Cameron
Comments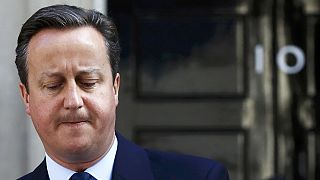 Hot on the heels of the seismic vote for the UK to leave the EU came the dramatic announcement from David Cameron that he will step down as prime minister by the autumn.
He had pledged the referendum and led the campaign to remain in the EU.
Cameron appeared outside Number 10 Downing Street at breakfast time on Friday to speak to reporters.
"I fought this campaign in the only way I know how, which is to say directly and passionately what I think and feel – head, heart and soul. I held nothing back. I was absolutely clear about my belief that Britain is stronger, safer and better off inside the European Union, and I made clear the referendum was about this, and this alone – not the future of any single politician, including myself. But the British people have made a very clear decision to take a different path, and as such I think the country requires fresh leadership to take it in this direction. I will do everything I can as prime minister to steady the ship over the coming weeks and months, but I do not think it would be right for me to try to be the captain that steers our country to its next destination. This is not a decision I've taken lightly, but I do believe it's in the national interest to have a period of stability and then the new leadership required. There is no need for a precise timetable today, but in my view we should aim to have a new prime minister in place by the start of the Conservative Party conference in October," David Cameron said.
He became leader of the Conservative Party in 2005 and became prime minister as head of a coalition government following the general election five years later.
Under his leadership the British government took a decidedly Eurosceptic turn and Cameron found himself torn between the positions of other leaders and his own Conservative Party and its MPs in Britain.
He pledged a referendum on Britain's EU membership in 2013, a promise that became a reality following the Conservatives' victory at the 2015 general election.
In the end the renegotiated deal that Cameron struck with Brussels on the terms of Britain's EU membership fell well short of voters' expectation.
He will now go down in history as the leader who presided over the UK's exit from the European Union.
Cameron says "no immediate changes" for Britons living in EU and EU citizens in UK

— euronews (@euronews) June 24, 2016
#Brexit
David Cameron says he will resign as UK prime minister; aims to have new leader in place by the Autumn pic.twitter.com/E1p9vuD3Jl

— euronews (@euronews) June 24, 2016
It's right that David Cameron has gone. Not a bad man just on the wrong side of the argument.

— Nigel Farage (@Nigel_Farage) June 24, 2016