Brexit: why British expats are worried
Comments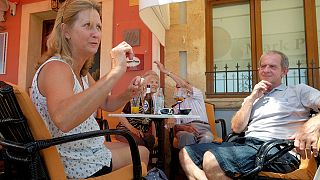 Javea is a beach resort on the Costa del Sol.
We are all in limbo, we just have to wait and see
British expats began moving to the small beach-side town in the 60s and 70s. Their numbers swelled further after Spain joined with Brussels in 1986.
Figures from 2014 show Spain is the most popular EU destination for British migrants.
But now, there is uncertainty – and worry.
Chuck Daulson
English
51
Bar owner
"We don't know how we're going to be now, we might have no pension, we might have no medical, we may have to sell our properties, we've lived here for a lot of years, we don't know how it's going to affect us anymore."
Sarah
Londoner
28
Living in Benidorm
Waitress
"If we leave the EU, then it's bad on us expats who live here, obviously we'll lose our medical care, we'll lose our right to work without a work permit. Me and my boyfriend, we've lived here for 3 years, we won't get a chance to get a mortgage or anything like that now."
Thomas McCarney
British
Javea resident for 23 years
"We are all in limbo, we have just to wait and see what they decide is going to happen. But it is a worry, of course it is. Twenty-three-years here is a long time to be here".
And the worry runs both ways.
Spanish business owners who rely heavily on the tourist sector are concerned what the Brexit will mean for their profits.