Black Brexit Friday as pound plummets and FTSE falls
Comments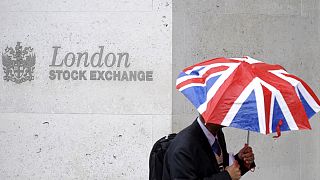 The pound plummeted and the London's FTSE fell in the wake of Britain voting to leave the EU.
BLACKFRIDAY London Stock Exchange plunges in first few minutes of trade https://t.co/NGfpSVWldTpic.twitter.com/euEm2uAKNR

— Report UK (@ReportUK) June 24, 2016
At one stage sterling fell by more than 10 percent, numbers not seen since 1985.
The pound recovered somewhat after reassurance from the Bank of England, but was still down 6 percent.
The FTSE also lost big by some 8.7 percent again the biggest drop since 2008, but has since stabilised at around 4 percent.
Chaos on the London Stock Exchange as #Brexit vote causes huge plunge in share prices https://t.co/z67YplvlwKpic.twitter.com/bm4BYNvFrY

—

LBC

(@LBC) June 24, 2016
The vote caused alarm in the financial community with London bankers claiming it was the most volatile trading they had ever seen.
The banks had to take some big hits Barclay's and RBS both lost around 30 percent, but later recovered to around 17 percent.