Spanish go to polls again but similar inconclusive result expected on Sunday
Comments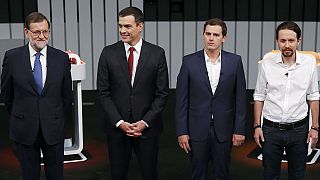 Six months after the legislative elections on December 20 the Spanish are again going to the polls on Sunday in a bid to end the political stalemate. The opinion polls forecast a similarly complicated result to six months ago with no one party holding a majority.
Leaders of the four big parties have promised there will not be a third vote but have not said in the absence of a clear winner how they will manage that.
The Popular Party of Mariano Rajoy, the acting prime minister, should again emerge the biggest party, with between 113 and 129 seats compared with 123 today, a long way off a majority. Rajoy refused to take part in the swearing-in of the new parliament and insists the biggest party should rule, but in that case he lacks any allies to support him. Everyone is sick of the on-going corruption scandals untackled on his watch.
They have just damaged Rajoy's Interior Minister, who has allegedly been caught manipulating the justice system in order to discredit Catalan independence campaigners.
The polls are also saying that second place is going to be taken by Unidos Podemos, the new left-wing movement including former Communists, independence activists and anti-austerity campaigners. Pablo Iglesias's party is forecast to win between 84 and 95 seats, up from 69. Pablo Iglesias says he is the only realistic alternative to Rajoy, and so demands the support of the PSOE socialists.
This is unimaginable to their leader Pedro Sánchez. If the PSOE slips into third place, (it currently has 90 seats but could drop as low as 78), Sanchez only says he will not veto any "force for change" as he calls it, despite having missed out on the Prime Minister's job because Podemos joined the PP in rejecting him. He will, however, oppose Podemos's promise to grant Catalonia an independence referendum.
The fourth political force is the Liberals of Ciudadanos, who have 40 seats and could pick up one more. Its leader Albert Rivera signed a pact of government with Pedro Sánchez when he failed to get enough support in parliament. He now proposes ditching Podemos for a three-way pact with the PP and PSOE, but without Rajoy as prime minister.
Ahead of Spain's election on Sunday, euronews' Isidro Murga spoke to Lluis Orriols, Professeur from the University Carlos III in Madrid and the University of Oxford.
euronews:
''The December elections ended decades of bi-partisan politics, but did not produce a government. Six months later, could the same situation repeat itself or will there be a clearer political landscape?''
Lluis Orriols:
"If the forecasts are accurate we will still not have a majority on the left, or one that depends on nationalist support, and we won't have a majority on the right, either. We are in a very difficult situation to manage. Although it is true that the current scenario is easier than the first in the sense that one of the possible alliances is no longer viable, so there will be a change of government. This points to a Socialist-led coalition with new parties Podemos and Ciudadanos. So we are headed for a grand coalition, or a Socialist government propped up by nationalists."
euronews:
"The polls are predicting a victory with no majority for the PP, making it difficult for it to form a government. On top of the other parties refusing to work with Rajoy there is the scandal about the Interior Minister allegedly illegally manoeuvering to undermine nationalist leaders. Is there any way out for the PP?"
Lluis Orriols:
"The PP will be better-placed than in December because while it is probable that it won't win a majority, either alone or with Ciudadanos, it is also true that this time something that was impossible then could happen; a grand coalition or at least a pact with the PSOE allowing the PP to govern. It is true that this new scandal could destabilise the campaign but I don't think it will hugely affect the Sunday results. It is complicated for the PP, but no more than in December."
euronews:
"What price will the PP have to pay to form a pact with another party?"
Lluis Orriols:
"I think this is one of this election's great unknowns. Will the PP disown its candidate to ease the path towards an alliance with the PSOE? This is the big unknown, just how far is the PP willing to go to negotiate?"
euronews:
"What other options are on the table?"
Lluis Orriols:
"Essentially there are two. There is the PP-PSOE pact, a sort of grand coalition, or a coalition of the left. This for the moment seems to rely on support from the nationalists. This is complicated for two reasons, first because some of these nationalists are determined to split with Spain at all costs, and that is difficult to stomach for the Socialists.
Second, it is possible that Podemos will overtake the PSOE, and that could break the pact wide open."
euronews:
"Unemployment, corruption, and separatist tensions. That's quite a workload for the next government, which also has to fight Brussel's new austerity demands. Is it possible that what happened in Greece with Syriza could happen in Spain?"
Lluis Orriols:
"Yes, in effect Greece has for several years provided a mirror for the Spanish because, in part, what happened there happened here, but months or years later. It is very possible that a future government tries to take on the EU but will be forced to accept the rules, at least in the short term. One day perhaps other governments angry with Brussels can form a majority within the EU but that's not going to happen tomorrow. So it is highly probable that anyone's election promises will melt like snow countermanded by orders from Brussels."