Spain: interior minister faces calls to quit
Comments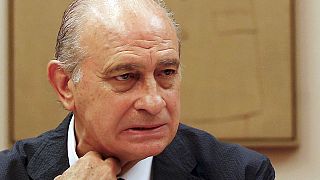 Spain's interior minister is facing mounting calls to resign after allegations he tried to smear his political rivals.
In leaked recordings released by the online news outlet Publico just days before Spain goes to the polls, Jorge Fernandez Diaz, and the head of Catalonia's anti-fraud office appear to discuss ways to discredit the region's pro-independence parties.
Diaz denies any wrong-doing, insisting the tapes have been edited and taken out of context.
"The only conspiracy here relates to who made the recording and who released it a few days before the election, in a biased way, by installments and out of context…That is the conspiracy," Diaz said.
The taped conversation allegedly dates from 2014.
Several opposition leaders, have said the revelations should trigger the immediate resignation of Diaz.
The head of Spain's anti-austerity party Podemos Pablo Iglesias, said: "It is very serious that he's used his position to pursue political opponents, he should resign immediately, otherwise interim Prime Minister should remove him."
Pedro Sanchez, the head of the Spanish Socialist Worker's Party said: "The interior minister should offer his resignation today. He has not done so, so the interim Prime Minister, Mr. Rajoy, should dismiss him, also immediately."
Prime Minister Mariano Rajoy has defended Diaz, claiming he should not go so close an election.
Polls show Rajoy's centre-right Popular party, which has been in a caretaker role for the last six months, is on course to win Sunday's ballot.