Russia dominate day four of European Fencing Championships
Comments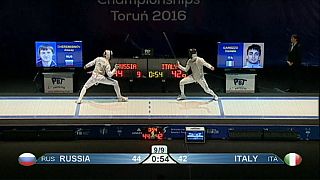 Russia upgraded their team silver from last year's European championships to gold this year after beating Italy in the final in Torun, Poland.
Russia beat the world champions 45-42 in the showpiece match.
The winning quartet was made up of Timur Safin, Artur Akhmatkhuzin, Alexey Cheremisinov and Dmitry Rigin
Great Britain meanwhile beat defending champions France to third place winning through 45-28.
The Russian women made it a double whammy on the day after they won the team sabre event.
They continued their nation's domination by beating France in the final.
Ekaterina Dyachenko, Sofya Velikaya, Yana Egorian and Yuliya Gavrilova combined forces to win through 45-39.
Ukraine beat Poland to the bronze medal.
Wit two days of competition to go Russia top the medal table with four golds, a silver and three bronze.