Markets show faith in a UK remain vote
Comments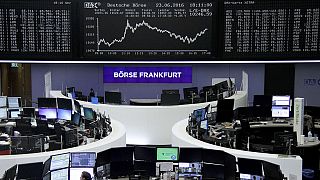 The pound hit a high for 2016 as global stocks rallied and the markets followed the bookies and backed Britain to remain in the EU.
Sterling, super sensitive to the ins and outs of the referendum campaign, was up 0.7 percent at $1.48 reflecting the belief of a remain victory.
Joshua Mahony a market analyst at IG
says the problems will occur if 'Vote Leave' wins:"If we did decide to leave, then that's sort of an unknown and markets don't necessarily like an unknown and therefore we could see significant selling off the back of that. We could see 15 percent deterioration or alike. On the flip side, if you're looking at what's happening in terms of remain, essentially it's a status quo."
Wall Street opens higher as Britain votes on EU membership https://t.co/cX5zmPySKhpic.twitter.com/k64u77DqnF

— Reuters Business (@ReutersBiz) June 23, 2016
Oil prices were up and Wall Street rose close to one percent, likewise the German Dax and the French CAC 40.
London's FTSE was up 0.5 percent.