Markets calm as EU referendum under way in Britain
Comments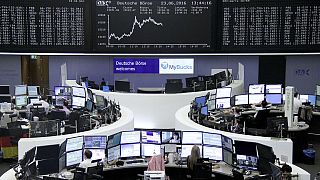 European markets opened slightly higher as Britain goes to the polls to vote on whether to leave or stay in the European Union.
After weeks of 'Vote Leave' fears polls indicate that a vote to 'Remain' appears more likely but the result will be close.
Michael Ingram is a market strategist with BCG Partners:
"It is looking very positive yet again. Markets had a very, very good run over the last week or so, we have seen the best week for the pound that we've seen in six years. Markets seem to be taking a very, very big bet that the bookmakers are right that there is a minimal chance of a Brexit and are confounding polls which say that it is at this moment too close to call."
In Frankfurt German traders are also confident of a vote to stay in the EU, but expect chaos if 'Vote Leave' wins says Oliver Roth a financial analyst with Capital Markets: "We are in a quite stable mood here at the Frankfurt stock exchange. We are awaiting the results of the referendum about the Brexit but, right now, priced in is that Britain will stay in the European Union. Anything else would bring us a lot of trouble tomorrow morning."
Investors towed a cautious line in Asia prefering to stay calm and wait and see what the results brings with the Japan expecting big yen movements if 'Vote Leave' wins.