British holidaymakers in dash to change cash
Comments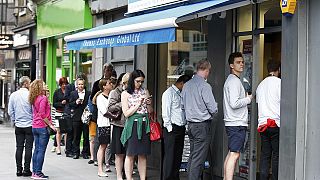 As summer gets into full swing its time for British holidaymakers to cash in their pounds for euros and dollars.
Add to that an EU referendum and fears that sterling will collapse is prompting the financially savvy to think ahead.
About the new plastic five-pound notes https://t.co/dQ8oMp6qwp#Churchill#pound#money#BankofEnglandpic.twitter.com/xmBvmfP2Jm

— We! Magazine (@WEmag_UK) May 31, 2016
Sales of currency at the Post Office have surged 74 per cent since the weekend, compared to the same period last year.
Why? referendum jitters.
"My dad phoned me earlier, he's asked me to come round and get him some euros in anticipation of the rates dropping, cause they're off to Spain for a week," said one man queuing for cash.
The #PortraitWindow is an #innovation in Euro notes: Security Paper that combats fraud. https://t.co/W31vupDi1npic.twitter.com/9hrsAMqdYM

— Pasaban (@PasabanMachines) June 17, 2016
Football fans are also in the mix:"I'm going over to the Euros next week, so I just need to pick up some euros before the referendum really."
Even those leaving later in the summer are getting their cash now.
"I'm going on holiday at the end of August to America. I thought it would be worth getting my dollars now. It's not a big transaction, but if the pound does collapse, then it may cost be a hundred quid so I thought I'd get some cash now."
Most forecasters expect the pound will fall sharply if there is a vote to leave the EU hurting tourists and British companies trading overseas.