Pope invites refugees to join him on stage
Comments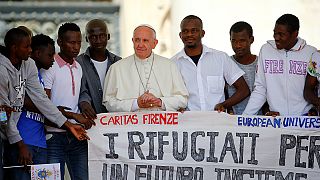 The pope has invited a group of refugees on to the steps of St. Peter's Basilica in Rome.
During his weekly audience on Wednesday Francis called on Europe to welcome more migrants saying they had suffered in their home countries.
In April, the head of the Catholic Church brought back 12 Syrian refugees to the Vatican after visiting the Greek Island of Lesbos.