North Korea missile launch 'threat to global community' - Japan
Comments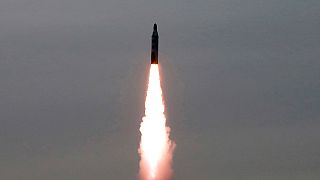 North Korea test-fired what appeared to be a second mid-range missile on Wednesday.
South Korea's military said it flew about 400 kilometers. In theory, that distance is more than halfway towards the southwest coast of Japan's main Honshu island.
It said an earlier launch failed.
The Japanese prime minister said such tests can not be tolerated.
"Today's missile launch, as with ballistic missile launches in the past, is in clear violation of the United Nations [Security Counci] resolution," said Shinzo Abe. "We absolutely cannot allow it and I have lodged a resolute protest against it."
The US military's Pacific Command detected the two missiles. The Pentagon press secretary had early said another missile test would violate UN resolutions.
"It would be another provocative action so we certainly would urge North Korea to refrain from doing that sort of thing. We continue to closely coordinate with our allies in the region about the situation and we're watching it very very closely," Peter Cook said.
North Korea recently claimed big breakthroughs in its push to build a long-range nuclear missile that can strike the American mainland.
But South Korean officials have said the North doesn't yet possess such a weapon.