Libya: pro-government forces 'make gains' against ISIL
Comments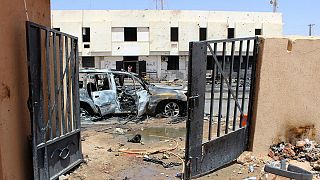 In Libya, forces loyal to the unity government say they have made significant gains in residential districts of Sirte, as they battle to oust ISIL fighters.
A spokesman for the government-backed brigades, said they were securing a neighbourhood, just south of central coastal city. The port and other parts of Sirte are also thought to have been recaptured.
Dozens of troops and ISIL aligned-fighters were reportedly killed in the offensive.
Pro-government forces, mainly from the western city of Misrata, launched a major campaign against ISIL a month ago. The group has been in control of Sirte, its main stronghold in Libya, since February last year.
Government troops are also believed to have seized at least one ISIL ammunition store in the city.
Since arriving in Tripoli in March, the U.N.-backed Government of National Accord has coordinated a campaign against ISIL which expanded into Libya from 2014.