Two tribes: the footy fans' verdict on Brexit
Comments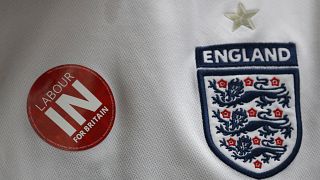 Two teams square up on the "English prom"
England supporters soaking up the sun on the Promenade des Anglais in the French city of Nice are divided – and not just about who they think will win Euro 2016.
Two teams are lining up ahead of the UK's in-out EU referendum this coming Thursday.
A solid defence
50-year-old Chris Childs from Cornwall supports the "Remain" campaign.
"I don't think it will solve any of our problems to go out. We live in Cornwall and we got a lot of money back from the EU."
"I don't trust the government in the UK to be as even-handed with the money as they are in Europe."
Depth in attack
49-year-old Richard Parry thinks the UK will be better off out.
"I think for our age group – we are 50 – we have always been in Europe, I have never known any difference."
"I think there is a chance that it could be better out than in and I have got children and I think it just might be better for them, it will not be better for me," he said.
What do the pundits say?
Three opinion polls ahead of Thursday's vote show the "Remain" camp recovering some momentum.
However, the overall picture reveals the UK electorate is evenly split.
When is the fixture?
Thursday 23 June
Where is the venue?
Across the UK and its associated territories.