Stunning win sends Wales through as group winners - Euro 2016
Comments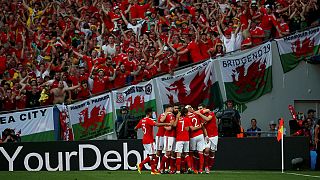 Jubilant Wales fans celebrated their historic European Championship qualification after beating Russia 3-0 to reach the knockout stages for the first time. They have come top of Group B ahead of their oldest rivals England…. which no doubt added to their joy.
What an experience for fans of Wales, which advances to #EURO2016 knockout stage as debutant, routing Russia 3-0https://t.co/t6zmq7n2AT

—

XHS

ports (@XHSports) June 20, 2016
"We were expecting a win but they were absolutely awesome. This is the best time of my life. I never thought I'd see this day. Wales!" cheered Wales fan Mandy Davis.
It wasn't just fans in France that celebrated. Those back home were delighted too… and showed it.
Watch Gwynedd fans go wild as Wales hammer Russia: https://t.co/ZXy9gvEtGipic.twitter.com/JiN7MNEpd8

— Daily Post Wales (@dailypostwales) June 20, 2016
For Russian fans who are now out of the tournament, it was a bitter disappointment – some of them left the Toulouse stadium even before the final whistle.
"Sad and bad. That's all but life goes on. We will be hosting the World Cup in the future so we will try to prepare our team better for it. But these guys (the Welsh) they are great," said Russia fan Oleg Mavrochev.
Wales and Russia fans sing 'don't take me home' before their pivotal game tomorrow! #EURO2016

pic.twitter.com/7grYhNbDaJ

— From The Stands (@FromTStands) June 19, 2016
Even though England could only manage a 0 – 0 draw against Slovakia, squandering chances when they had them, they still qualify for the knockout stage. As one supporter said, "we're not doomed yet….until penalties that is.."