Strawberry moon lights up summer solstice
Comments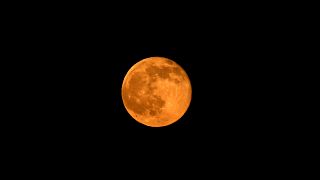 For the first time in 49 years the summer solstice has coincided with a full moon.
The once-in-a-generation astronomical event, which took place on Monday night, is not expected to happen again until 2062.
Called a strawberry moon, after it was named as such by North America's Algonquin tribes, most people in the US were expected to have a good view of the rare phenomenon.
The summer solstice marks the shortest night of the year and thousands of people gathered at Stonehenge in the UK to mark the occasion.
''The weather was fine throughout and the highlight of the evening was a spectacular full, strawberry moon over the ancient stones,'' English Heritage said.
TONIGHT: Summer solstice & full moon. Hasn't happened together in 67 years https://t.co/ZPKhusSjwi#FirstDayOfSummerpic.twitter.com/1udIozRK6O

—

NASA

(@NASA) 20 de junio de 2016
Rarer than a blue moon, a strawberry moon is a full moon in June.
It is the first time since 1967 that a full moon and the summer solstice have coincided.
The next strawberry moon is due to take place in 46 years, in 2062.
Native American tribes, Alogonquin tribes, believed the full moon in June signaled that strawberries and other fruit were ready to be picked.
The summer solstice marks the shortest night of the year and occurs when a planet's rotational axis, in either the northern or southern hemispheres, is most inclined toward the sun's orbit.