Shakeup for Trump team after he fires campaign manager Lewandowski
Comments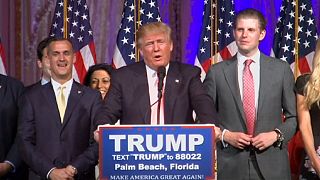 Donald Trump has fired the campaign manager who helped him win the Republican Party's presidential nominating contests.
It was yet another shakeup for a campaign already at odds with many senior party figures.
Corey Lewandowski was often at odds with another prominent adviser to Trump, Paul Manafort, who will now replace him. The 42-year-old had been a near-constant presence at the tycoon's side throughout his campaign.
Known for his brusque manner, Lewandowski was accused of manhandling a female reporter in Florida during the primary campaign, although charges were later dropped.
"I have said and will continue say I will support Donald Trump in any endeavor he has if I can play a role in this campaign whether it's formal or informal. That would be an honor for me to have," Lewandowski said.
One source has been quoted as saying that Trump's decision came at the urging of his daughter and her husband who have powerful advisory roles in the campaign.
Lewandowski had argued that the candidate's unconventional campaigning style did not need to be altered, saying "Let Trump be Trump".
Meanwhile Hillary Clinton received a family – if not a direct campaign – boost. Her daughter Chelsea and her husband appeared with their second child: Aidan was born in New York on Saturday.
Chelsea Clinton is the only child of the former US president and the former Secretary of State. The likely Democratic presidential candidate has hundreds more staff than Trump's team in states across the country and has spent millions of dollars on TV ads in recent weeks.
The Republican has preferred to communicate via his Twitter account and media interviews.