Protests after prominent activists arrested in Turkey
Comments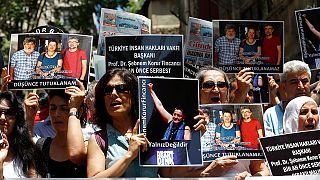 In Turkey, supporters of a pro-Kurdish newspaper protest against the arrests of three prominent activists on terrorism charges.
The crowd gathered outside the daily "Ozgur Gundem" in Istanbul.
The day before, a court arrested Reporters Without Borders representative Erol Onderoglu, author Ahmet Nesin and Sebnem Korur Financi, the president of Turkey's Human Rights Foundation.
The paper's editor is Gunay Aksoy.
She is urging the international community to take notice of the level she says media freedom and human rights have sunk to.
"Turkish society and democratic power in this country are isolated," she told reporters. "We can perhaps break this isolation with pressure and solidarity messages that will come from around the world."
The official Turkish news agency Anadolu says the three arrested acted as chief editors for a day for the publication.
It has been claimed the issues they edited in May and early June included alleged terrorist propaganda.
Press freedom in Turkey
Campaigners for press freedom warn that freedom of expression is under threat in Turkey.
More than a dozen journalists are in prison.
The Turkish government insists they have been jailed for criminal activity and not their journalistic work.