Macedonian 'colour protest' hits FYROM government buildings
Comments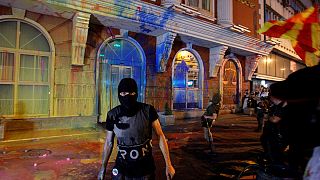 About 20,000 protesters in the Macedonian capital Skopje have sprayed the president's office and parliament with coloured paint.
"Our message is simple - this fascism in Maecdonia has to stop. We are fighting for our future of our children. We are fighting for democracy and for human rights.

Protester
Demonstraters have been demanding investigations into corruption cases and fair elections.
They say none of their key demands have been met and they have started a new wave of protests.
"We have been protesting for 70 days already," said protester Maja Maracanin. "What we are doing now has been dubbed the 'colourful revolution.' We all have the same demands, to which the government does not react, and as we have said before we are losing patience and we don't want to wait much longer, and we will not give up our demands."
MACEDONIA – A demonstrator sprays paint Ministry of Justice during an anti-gov. protest in Skopje. By RAtanasovski</a> <a href="https://t.co/77uppLKNyO">pic.twitter.com/77uppLKNyO</a></p>&mdash; Frédérique Geffard (fgeffardAFP) June 21, 2016
The color of people ire. RAtanasovski</a> on <a href="https://twitter.com/hashtag/Macedonia?src=hash">#Macedonia</a>&#39;s revolution. <a href="https://twitter.com/AFPblogs">AFPblogshttps://t.co/BdawBUEOacpic.twitter.com/fLJjgvsreY

—

AFP

Correspondent (@AFPblogs) June 17, 2016
'Sometimes… I get the feeling I've stepped into an Angry Birds video game' #Macedonia | https://t.co/Kq39JdEZvnpic.twitter.com/yL911M3Akh

— David Vujanovic (@DavidVujanovic) June 17, 2016
The protests in the Former Yugoslav Republic of Macedonia centres around a corruption scandal which led to the dissolution of parliament.
In an EU-brokered deal last year, Macedonia's political parties agreed to hold an early election and that a special prosecutor should investigate allegations that former prime minister Nikola Gruevski and his close allies authorised eavesdropping on more than 20,000 people. President Gjorge Ivanov's decision in April to pardon 56 officials prosecuted over their involvement in the scandal drew nationwide protests and the international pressure led to the cancellation of an election set for June 5 with the new date to be set when the conditions for fair elections are met.
Earlier this month Ivanov revoked pardons he had granted to 34 officials implicated in a wire-tapping scandal, meeting demands from the opposition, the European Union and the United States, but protesters say that is not enough and that none of the conditions for free and fair elections have been met.
Last week, the Macedonian parliament began a procedure for Ivanov's impeachment at the request of opposition parties, an initiative unlikely to succeed because they cannot secure the required two-thirds majority in the legislature.
Demonstrators said they would continue the protests until their demands are met.