Brexit: The Leave campaign arguments to quit the EU
Comments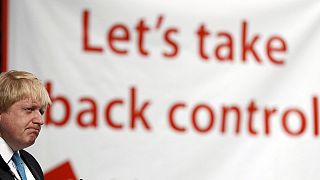 Control has been a buzz word of the Leave campaign. Control of the country's own borders, of its economy, of trade. The leave campaign want to take back control which it claims has been lost as a member of the European Union.
Boris Johnson left it late to throw his weight behind the Brexit campaign but now he is one of the main campaigners calling on voters to back leaving the bloc.
The UK pays too much into the EU pot he contends and in typical fashion he had a play on words on a visit to a biscuit factory.
It's money which the UK could make available on other priorities like the National Health Service while it would also be able to spend money which the EU transfers back to it how it wants.
"It's a lot of dough we are seeing here, but it is nothing like the dough we are sending to Brussels every day – 50 million quids worth," he said.
Justice Minister Michael Gove and Boris Johnson have made the economy the principal plank of their argument. The single currency, claims the Leave campaign has weakened the bloc and it is a risk to remain.
"They've pursued projects like the single currency and the borderless Schengen zone which have weakened our continent's resilience. The euro has created economic weakness," explained Michael Gove.
Their sums are simple according to them. The UK spends more that it earns from the EU. That is correct from an accounting point of view but the ratio of spend to what the country gets back is around seven billion euros. That is less than Germany and France for example.
Leader of the United Kingdom Independence Party, Nigel Farage has made immigration a constant in his campaigning. He heads another group calling for a Brexit. It is not officially endorsed by the electoral commission.
"To control immigration as a member of the European Union. It isn't difficult. It's impossible. And the reason is clear. This is a British passport. And what are the first two words on it? European Union," he opined.
It is impossible for the UK as a member of the EU to control immigration is one of the Leave campaign's points. Public services are under strain because of the number of migrants the group says while it claims British workers have suffered as their wages have been driven down because of the influx.
Some want that a points-based system which is in use in the UK for those outside the European Economic Area to be extended to include migrants from the EU.