Brexit: Remain focus on economy and trade
Comments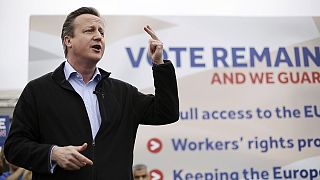 The risk of politics. It is a referendum which British Prime Minister David Cameron promised the country ahead of victory in the parliamentary elections last year.
But his commitment to the in-out poll was made ahead of the migration crisis in Europe. Perhaps he could never have imagined the opinion polls would point to such a tight finish a week ahead of the ballot.
Maybe his arguments have appeared confused at times.
"I myself am a Eurosceptic, I'm sceptical about some of the things Europe has done. But I would say that is not a cause of weakness in our campaign, it's a cause of strength in our campaign because we are levelling with people which is something that the other side refuses to do," he said at tone rally.
Coded political language perhaps to say its better on the inside and you can trust us. But the PM has come under some criticism from several analysts for playing the fear factor in some of his speeches especially when it comes to one of the main debating areas – the economy.
"Add those thing together, the shock impact, the uncertainty impact, the trade impact – and you put a bomb under our economy. And the worse thing is we'd have lit the fuse ourselves," he opined while his Chancellor, George Osborne backed up that opinion.
"And my concern is that if we quit the EU then there will be a big economic price to be paid by this country."
About half of UK overseas trade is conducted with the EU. It is the opinion of many economic commentators that leaving the bloc would be an economic disaster for the country – estimates put a drop in the GDP between 3.5 and 9.5 percent – and the global economy. The varying figures can be difficult for voters to grasp.
The leader of the Labour Party, Jeremy Corbyn showed his colours late in the campaign. But he is calling on his members to vote to remain focusing his arguments on the economy and the opportunities membership of the bloc brings for investment and workers.
"We, the Labour Party, are overwhelmingly for staying in because we believe the EU has brought investment, jobs and protection for workers and consumers and the environment. But we also recognise that our membership offers a crucial route to meeting the challenges we face in the 21st century," he told supporters.
The referendum has crossed political divisions. Former Prime Ministers, Sir John Major and Tony Blair joined forces before a young university audience to advocate a vote to keep Britain's place at the European Union table for future generations.