Orlando gunman pledged allegiance to ISIL during 911 calls
Comments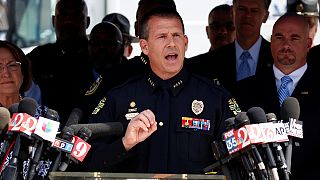 Newly released transcripts of 911 calls made by Orlando gunman Omar Mateen reveal he threatened to strap hostages into explosives vests.
Mateen spoke in a "chilling, calm and deliberate manner"
In the end no explosives were found at the nightclub but the transcripts show what the police were up against as they tried to limit the loss of life.
Orlando Chief of Police John Mina explained:
"The timeline released based upon radio communications clearly shows our officers were within the club within minutes and engaged the suspect in gunfire and that's important because that engagement and that initial entry caused him to retreat, stop shooting and barricade himself in the bathroom with hostages.''
The transcripts include details such as that Mateen called on the US to stop bombing Iraq and Syria and pledged allegiance to ISIL militants and their leader, giving a clear indication of his motives for the killings.
Originally the authorities released only a redacted transcript of the conversation between Mateen and 911 police operators, omitting ISIL and Abu Bakr al-Baghdadi, the leader of the so-called Islamic State, from the transcript, but re-issued a full version after facing a backlash.
In a statement released Monday afternoon, the Department of Justice said it redacted the transcript to avoid giving the killer a platform for "hateful propaganda" but it had unfortunately become a distraction.
JUST IN: DOJ, FBI release full transcript from Orlando shooter's 911 call to provide "highest level of transparency" pic.twitter.com/U4d7Q89Oqr

—

ABC

News (@ABC) June 20, 2016
An FBI spokesman told reporters Mateen spoke in a "chilling, calm and deliberate manner."
He said there was no evidence that a foreign terrorist group was behind the shooting and that Mateen was likely radicalised domestically.
Forty-nine people died in last week's massacre when Omar Mateen went on a shooting rampage in the gay nightclub Pulse. In a three hour stand off with police in which he took several hostages, Mateen is known to have paused in the killing, sending texts to his wife and posting messages on the internet as well as making 911 calls. Mateen was eventually shot dead by police after they stormed the building. More than 50 people were also injured in the atrocity.