Funerals held for victims of Orlando gay club massacre
Comments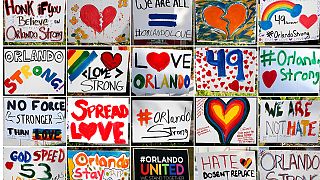 Funerals and memorials for victims of last weekend's Orlando gay nightclub massacre have been held in the US state of Florida, and in Puerto Rico, home to many of the people killed.
Orlando will hold funerals over the next two weeks for victims of the worst mass shooting in modern US history.
A large pride flag has been displayed on a government building in Florida's Orange County to honour victims of the deadly nightclub shooting.
The gunman reportedly expressed support for a conflicting list of Islamist militant groups in a series of phone calls and internet messages during his rampage.
FBI agents have questioned a member of the mosque where he worshipped, according to a lawyer with the Council of American-Islamic Relations (CAIR).
The Islamic Centre is said to have hired extra security.
In Washington DC, police officers were on duty inside the popular gay nightclub 'Town Danceboutique'.
Hundreds had gathered for a fundraiser for the families for families of the Orlando victims.
Ride hailing company Uber is offering free rides this weekend to LGBTQ (Lesbian, Gay, Bisexual, Transgender, Questioning) locations in the DC area.
Everyone singing #WeAreFamily to support #WeAreOrlando tonight WhatsUpAtTown</a> w/<a href="https://twitter.com/BaNakaDEV">BaNakaDEVTATIANNANOW</a> & <a href="https://twitter.com/shiqueeta">shiqueetapic.twitter.com/C4AomclzEl

— Jennifer (@mathetes76) June 17, 2016
Raised so far: $31,875 – Goal by end of weekend: DOUBLETHATEFFORT! Donate at Town, Trade, NumberNineDC</a> all wknd <a href="https://t.co/LD65by1uJp">pic.twitter.com/LD65by1uJp</a></p>&mdash; Town Danceboutique (WhatsUpAtTown) June 17, 2016
Join us in paying tribute to the lives lost in the #PulseShooting w/the Sea to Sea flag: https://t.co/wzIvhm6HkWpic.twitter.com/86OBkMgdSU

— Mayor Teresa Jacobs (@Mayor_Jacobs) June 17, 2016