Brexit double bind for EU's Britons, and UK's EU nationals
Comments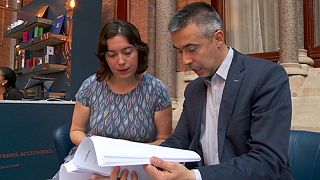 Directly implicated, but denied representation
Your life will change on 23rd of June and you have no idea what will happen!
Millions of people living in the UK are from other EU countries, but most of them will not be able to vote in the upcoming referendum on membership of the bloc. Only qualifying British, Irish and Commonwealth citizens can.
Lucie Hinton was born in Paris to Portuguese parents and moved to the UK 16 years ago.
Angry about the restricted voting rights, she launched a petition that attracted over four thousand signatures.
"Someone was saying in a petition comment that it was a little bit like, for example, denying women the right to vote in abortion laws. It's a powerful statement, but I quite agree with that. It's about…your life will change on 23rd of June and you have no idea what will happen!" she says.
Bulgarian Nishan Dzhingozyan has been settled in the UK for 10 years. He has become a British citizen, so can vote, but fears for those who cannot. So he wrote an open letter to Prime Minister David Cameron.
"We think this is a blatant case of discrimination. We're all settled in this country, we're all tax-payers, our families are here, our friends are here. We own properties and we contribute not only to the economical but also to the political, cultural and social life of the UK," he insists.
"The uncertainty of our future is creating an atmosphere of fear and worry and panic among millions of people. Some of them are already planning to go back to Bulgaria for example."
Driven to desperation
Lucie was so keen to vote that she fast forwarded her decision to become a British citizen.
"Although I'm British now, I still feel the same level of anxieties. It hasn't solved that. But I'll be very pleased and proud to be able to put a cross on the ballot paper, but it's only a drop in the ocean you know."
"The referendum is not only sparking debate amongst those who've moved here to Britain. It's also a big concern for expats who have gone abroad, including those who have set up home in Spain," reports euronews' Damon Embling.
A matter of life and death?
San Fulgencio, (Alicante, Comunidad Valenciana), is a slice of suburbia that meets the tastes and needs of the British. They make up 42% of its 10,000 inhabitants, most of them snapping up terraced homes in "La Marina". They registered in Spain in order to have access to social benefits and it made bureaucratic issues less complex.
Kate and Dave Lovell became residents, registering in the local census six years ago. That means Dave's diabetes blood tests are covered. With his Valencia region health card Dave does not have to pay any of the 1100 euros he has to spend each year on medication. But that may change if Brexit happens.
"When I came over I was diagnosed with type 2 diabetes, so I had service from the health system which is free, the prescriptions and the blood test twice a year. And I'd probably, (with the Brexit), have to obviously pay for all that, any treatments, any prescriptions…We don't know, we will have to pay for them."
A place in the sun with a frozen pension
"We've only got our pension obviously these days, we have a little bit of money in the UK, and we don't want to lose that. We're worried about the pension increase, because they are talking about stopping that."
Those who have worked both in UK and in Spain have similar worries, like Michael Khalsa, a new arrival, and Peter Prior, who has been here 12 years.
"How easy will it be to bring the pension from the UK to here? Or, if I move back to the UK, can I bring my Spanish pension either way? So, at the moment it will be quite straightforward but if Brexit happens, maybe things are not so quite easy anymore," says Peter.
"I found it very, very easy to get my N.I.E and my Social Security number, we had a translator, but it was still very simple. What's concerning for me is that it might be a more difficult process if the Brexit goes ahead, if we actually leave the EU," says Michael.
Becoming invisible
But a Brexit could also bring further changes for the British residents here. Samantha Hull is a British councillor in San Fulgencio's town hall, and leader of the PIPN,(Partido Independiente por las Nacionalidades), party.
"People are very concerned that with the Brexit, if we came out of Europe, will they continue to be allowed to have the right to vote in local elections? We know we can't vote in the nationals, but will we continue to be able to vote in local elections? And also importantly, we want to continue to have representation, British representation within the town hall as well," she says.
The British here can rely on Samantha and Tina Brown, who owns an agency, "Expat Solutions", dealing with daily life issues. Sam and Tina are two pro-EU activists, by far the most common position here. Tina is collecting votes and sends them by post for a referendum that she considers crucial.
"Lots of people think it won't affect them, lots of people just don't understand what the vote is about and what the implications are, but of the people that have registered, everyone wants to stay in the EU," she says.
'El Altet' airport in Alicante is an example of the huge British footprint in this area. Of 10.5 million people who passed through here last year, over 40% were British. The Irish company Ryanair, got involved with its own pro-EU campaign and aware of the important
role that will the expatriates will play, has offered 20-euro tickets to fly to any British airport for the 23 June vote and the day before," reports euronews' César Sempere.